| | | | | |
| --- | --- | --- | --- | --- |
| Customer Service | | 1-(888)-301-2926 M-F 9am-5pm MST | | | info@wishgardenherbs.com |
Cart

My Cart

$0.00

Free shipping on all domestic orders over $25

There are no items in your cart.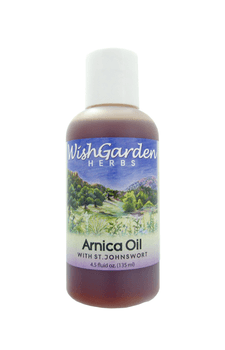 4.5oz
Arnica Oil
with St. John's Wort
Support the relaxation of muscles tired from everyday wear-and-tear, vigorous exercise, or minor bruises and strains. Arnica and St. John's Wort have been used for centuries to soothe muscle fatigue and discomfort. Placed directly onto the affected area, this oil is used by athletes and outdoor enthusiasts, and for everyday aches and strains.
Arnica Oil with St. John's Wort
Key Attributes
Topical solution for bruises, strains, sprains, and fatigue.*
Promotes restoration of overworked muscles.*
---
General Use
Apply externally to problem areas several times a day. CAUTION: DO NOT INGEST, or take internally. Do not apply to open wounds or broken skin.
---
* These statements have not been evaluated by the Food & Drug Administration. This product is not intended to diagnose, treat, cure or prevent any disease.
Frequently Asked Questions
---
Are your products organic?
We source organic raw ingredients whenever possible, including any cultivated herbs used and the alcohol in the tinctures. Many of our raw herbs are also wildcrafted. However, our products are not currently USDA certified organic.
---
Can I give adult formulas to kids?
For children under 12: in some cases, yes - in the proper amount. However, we recommend you stick to the children's products as these have been formulated specifically with kids in mind. Consult an herbal or natural therapies practitioner before giving any adult formulas to children. Children 12 years and older can take adult formulas.
---
How long will it take for the formula to have an effect?
Many of our common symptom-soothing formulas are designed to take effect within 5-10 minutes if used properly. To get these fast-acting results, we recommend 3-4 droppers full, or 6-8 pumps, per use to start. If you are not yet feeling the full effect within the first 5 minutes, repeat the original serving. You can do this up to 4 servings back to back. Note that some of our formulas are tonics and are meant to work over longer periods of time.

Here are some other strategies you can use, depending on the effect you need:

Move-Thru-It Strategy: to support optimum recovery rates, use 6-8 pumps or 3-4 droppers. Repeat every 1-3 hours for a day or two (with a good night's sleep). The idea here is a persistent frequency. Once you have achieved initial results, you can switch to more conventional usage patterns such as 3-4 times a day. For example: Kick-Ass Immune, Get Over It

TONIC Strategy: for long-term, deeply nutritive support over time, use 6-8 pumps or 3-4 droppers, 1-3 times a day for 3 weeks to 3 months. For example: Deep Stress, Daily Immune
---
Are your products Non-GMO?
Yes, we make a point to ensure that our raw ingredients are GMO-free. Most of the herbs we use are not at risk of being GMO. For ingredients that are at risk, they are almost always certified organic. Certified organic ingredients and product cannot, by law, contain GMO. For any non-organic at-risk ingredients, we do our best to insure that they are GMO free. However, our products do not currently have Non-GMO Verification or any other non-GMO certification.
---
Are there common allergens in your products, such as soy and corn?
Our products are gluten and dairy free. Most of our products are also free of soy and corn. The exception would be any formulas that contain cornsilk, including UTI Urinary, Growing Pains for Kids, Herbal Cal, and Kidney Strengthener. Catnip Oil Bug Spray contains soybean oil. Our Ear-Be-Well Ear Oil, Oh Baby! Oil, and Pregnant Belly Oil do contain almond oil.
---
How do you ship your products?
We use USPS Priority Mail. Order will typically arrive within 4-7 days on orders placed before 11am MST Mon-Fri. Please note that due to weight limitations and delivery address restrictions for USPS, very small or very large orders may be shipped via First-Class Mail or UPS at our discretion. This will not affect transit time.
---
Don't see the answer you are looking for? Visit our
FAQ page
.
People who bought this item also bought:
Blog Posts We Think You'll Like