| | | | | |
| --- | --- | --- | --- | --- |
| Customer Service | | 1-(888)-301-2926 M-F 9am-5pm MST | | | info@wishgardenherbs.com |
Cart

My Cart

$0.00

Free shipping on all domestic orders over $25

There are no items in your cart.
1oz Spray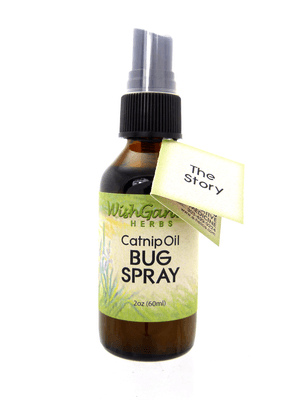 2oz Spray
Bug Spray
Catnip Oil
Warm weather is wonderful, until the bugs come out to play. Recent research has indicated that Catnip oil is a more effective insect repellent than other essential oil extracts. WishGarden Herbs' Catnip Oil Bug Spray is a great alternative to chemical-based bug repellents. Safe for children of all ages.
Bug Spray Catnip Oil
Key Attributes
Natural alternative to chemical-based insect repellents.*
Non-GMO and gluten-free.*
---
General Use
Avoid contact with eyes and mouth. Discontinue if irritation appears. If contact occurs, rinse thoroughly with warm water. CAUTION: Keep out of reach of children. DO NOT USE in wild areas. It is unknown whether large cats, such as mountain lions, react to catnip smells as household cats do.
---
At this time we are unable to ship to Montana residents. We apologize for any inconvenience.
* These statements have not been evaluated by the Food & Drug Administration. This product is not intended to diagnose, treat, cure or prevent any disease.
Frequently Asked Questions
---
What formulas can I take while breastfeeding?
WishGarden's Pregnancy and Children's formulas are the products of choice while nursing. We suggest you consult a natural therapies practitioner before taking any other formulas.
---
Are your products organic?
We source organic raw ingredients whenever possible, including any cultivated herbs used and the alcohol in the tinctures. Many of our raw herbs are also wildcrafted. However, our products are not currently USDA certified organic.
---
Can I give adult formulas to kids?
For children under 12: in some cases, yes - in the proper amount. However, we recommend you stick to the children's products as these have been formulated specifically with kids in mind. Consult an herbal or natural therapies practitioner before giving any adult formulas to children. Children 12 years and older can take adult formulas.
---
What is WishGarden's sustainability policy?
We make herbal remedies from a love of the plants and the earth and sustainability is very important to us. As such we only source organic and ethically wildcrafted herbs. Each of our suppliers must go through an extensive screening process and meet our high standards for both sustainability and quality. We also support organizations and research projects working on promoting the continued health of medicinal plant populations, such as the AHPA-ERB Foundation's Osha Sustainability Project. We believe your health and the health of the planet are intimately connected.
---
Is it okay to take multiple formulas while breastfeeding?
It is okay to take more than one of the pregnancy and lactation formulas at the same time while breastfeeding.
---
How long will it take for the formula to have an effect?
---
What does "as needed" mean on the label?
We are all unique and herbs can work differently for different people. The usage instructions on the label are written to be applicable to a general population. However, that doesn't mean they are optimum for you and the discomforts you are experiencing (small vs. large body types for example). "As needed" means you should take the amount listed at a needed frequency until you feel the desired effect (paying attention to any maximum or frequency limitations listed).
---
Does WishGarden have an affiliate program?
---
Are your products Non-GMO?
Yes, we make a point to ensure that our raw ingredients are GMO-free. Most of the herbs we use are not at risk of being GMO. For ingredients that are at risk, they are almost always certified organic. Certified organic ingredients and product cannot, by law, contain GMO. For any non-organic at-risk ingredients, we do our best to insure that they are GMO free. However, our products do not currently have Non-GMO Verification or any other non-GMO certification.
---
Can I buy wholesale on the website?
---
Why don't I see all the formulas on the website?
If you are not seeing a product you want, give us a call. We have certain formulas that belong to our practitioner line and are not currently offered on the website. However, you are welcome to call and order these products via phone (888-301-2926). Please note that some formulas might require proof of practitioner status before purchase.
---
I'm on a gluten-free diet. Are there any formulas that I should avoid?
None of our formulas contain gluten. The pure Italian wheat-based grain alcohol we use leaves all gluten behind when distilled, and comes with a gluten-free test certificate. The only other grain used in any of the formulas is Milky Oats, which is sustainably harvested and sorted in a botanical house. It is not processed with, or contaminated by, other grains.
---
Are your products Kosher?
While some of our ingredients are kosher, we are not a certified kosher facility. We receive raw materials from various suppliers.
---
Can I mix two or more formulas, or take them together?
Many people enjoy mixing combinations; however, those with a complicated medical history or on prescription drugs should consult their natural therapies practitioner.
---
Are there any formulas that I should not mix?
We recommend that you avoid using the adult formulas while pregnant or breastfeeding unless advised to do so by your natural therapies practitioner.
---
Are there common allergens in your products, such as soy and corn?
Our products are gluten and dairy free. Most of our products are also free of soy and corn. The exception would be any formulas that contain cornsilk, including UTI Urinary, Growing Pains for Kids, Herbal Cal, and Kidney Strengthener. Catnip Oil Bug Spray contains soybean oil. Our Ear-Be-Well Ear Oil, Oh Baby! Oil, and Pregnant Belly Oil do contain almond oil.
---
Are all of the herbs you use organic?
For the herbs we use that are cultivated, we source organic whenever possible. Those that are not organic are often harvested from the wild. All of the wild harvested herbs that go into our products must meet strict sustainability standards, including harvesting location.
---
Can I give the formulas to pets?
All of our products were formulated for human consumption. However, we have heard of people successfully using them for their pets. We recommend contacting a natural veterinarian before administering any of them to your pet, as some herbs are not safe for animals.
---
Are there books you recommend?
---
How do you ship your products?
We use USPS Priority Mail. Order will typically arrive within 4-7 days on orders placed before 11am MST Mon-Fri. Please note that due to weight limitations and delivery address restrictions for USPS, very small or very large orders may be shipped via First-Class Mail or UPS at our discretion. This will not affect transit time.
---
People who bought this item also bought:
Blog Posts We Think You'll Like