| | | | | |
| --- | --- | --- | --- | --- |
| Customer Service | | M-F 9am-5pm MST | | | info@wishgardenherbs.com |
Cart

My Cart

$0.00

Free shipping on all orders in the U.S.

There are no items in your cart.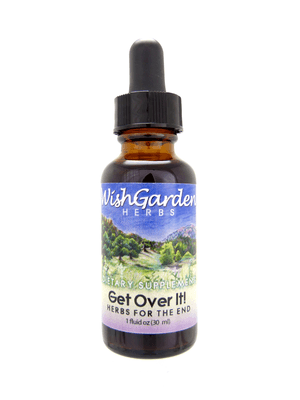 1oz Dropper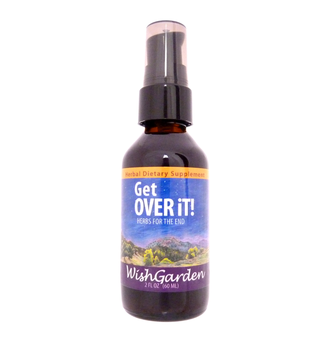 2oz Pump Top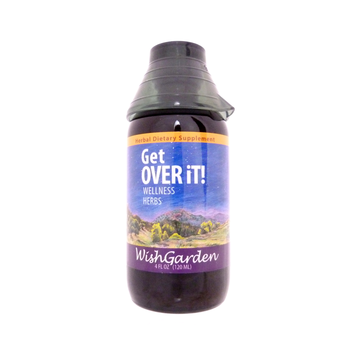 4oz Jigger Top
Get Over It!
Herbs for the End
For when the bugs have got a hold! This all-natural herbal formula supports your body's natural response to stubborn conditions that have become entrenched. WishGarden Herbs' Get Over It! goes deep -- part immune support, part lung supporter, part lymphatic system promoter, and part biotic, this formula helps you maintain a healthy immune response so you can Get Over It!
Get Over It! Herbs for the End
Key Attributes
If you're not feeling better, then Get Over It!*
Herbal heroes for healthy immune response.*
Non-GMO and gluten-free.*
---
General Use
6-8 pumps (3-4 droppers or 3-4 ml) in liquid for taste, 3-4 times a day, or if needed, increase frequency to every 1-3 hours for 1.5 days. Recommended Use Strategies: #1, #2
More About Our Use Strategies
For cutting-edge results with liquid whole herb extracts, WishGarden gives you these three game-changing strategies:
1) FASTEST EFFECT Strategy: To achieve in-the-moment results, use 6-8 pumps or 3-4 droppers full and repeat every 5 minutes until desired effect is achieved (up to 4 times in a row). Repeat as needed. Think enough volume here to get the job done.
2) MOVE-THRU-IT Strategy: To support optimum recovery rates, user 6-8 pumps or 3-4 droppers full. Repeat every 1-3 hours for a day or two (with a good night's sleep). The idea here is persistent frequency. Once you have achieved initial results, you can switch to a more conventional usage pattern such as 3-4 times a day.
3) TONIC Strategy: For long-term, deeply nutritive support over time, use 6-8 pumps or 3-4 droppers full, 1-3 times a day, typically for a minimum of 3 weeks or up to 2-6 months.
*Please note all of these strategies may not be applicable for all formulas. If a strategy is not listed or you have any questions, please give our Customer Service a call at 1-888-301-2926.
---
Active Ingredients
Yerba Mansa root (Anemopsis californica), Pleurisy root (Asclepias tuberosa), Lomatium root (Lomatium dissectum), Grindelia herb (Grindelia robusta, G. squarrosa), Wild Cherry bark (Prunus serotina), Goldenseal root (Hydrastis canadensis), Elecampane root (Inula helenium), Burdock root (Articum lappa), Cinnamon bark (Cinnamomum cassia, C. burmannii)
Other Ingredients
Rocky Mountain artesian spring water, vegetable glycerine & organic gluten-free alcohol.
* Avoid using the adult formulas while pregnant or breastfeeding unless advised to do so by your natural therapies practitioner.
* These statements have not been evaluated by the Food & Drug Administration. This product is not intended to diagnose, treat, cure or prevent any disease.
Frequently Asked Questions
---
How do you ship your products?
We use USPS Priority Mail. Your order will arrive in 2-4 business days if you placed it before 11pm MST Mon-Fri. Please note that due to weight limitations and delivery address restrictions for USPS, very small or very large orders may be shipped via First-Class Mail or UPS at our discretion. This will not affect transit time.
---
Don't see the answer you are looking for? Visit our
FAQ page
.
People who bought this item also bought:
Blog Posts We Think You'll Like