| | | | | |
| --- | --- | --- | --- | --- |
| Customer Service | | 1-(888)-301-2926 M-F 9am-5pm MST | | | info@wishgardenherbs.com |
Cart

My Cart

$0.00

Free shipping on all domestic orders over $25

There are no items in your cart.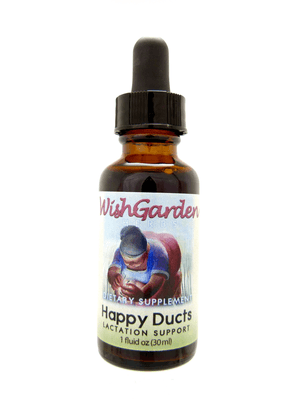 1oz Dropper
Happy Ducts
Lactation Support
Nursing can sometimes be rough on your breasts and ducts. Keeping your lymph system moving can support breast health while nursing. WishGarden Herbs' Happy Ducts helps to invigorate lymphatic function in the breasts. Not a tonic, meant for short-term use.
Happy Ducts Lactation Support
Key Attributes
Short-term herbal support for nursing mothers.*
Promote a healthy immune response.*
Nurture healthy lymph and breasts.*
Non-GMO and gluten-free.*
---
General Use
2-3 droppers full in water for taste, 3-4 times a day, or every 2 hours as needed.
---
Ingredients
Usnea lichen (Usnea spp.), Elder flower (Sambucus nigra), Bee Propolis, Yarrow aerials (Achillea millefolium), Baptisia root (Baptisia tinctoria), Boneset aerials (Eupatorium perfoliatum), Hops strobiles (Humulus lupulus), Echinacea Purpurea root (Echinacea purpurea), Red Root (Ceanothus americanus), Calendula flower (Calendula officinalis)
Other Ingredients
Vegetable glycerine, Rocky Mountain artesian spring water & 190 proof organic wheat grain alcohol.
* These statements have not been evaluated by the Food & Drug Administration. This product is not intended to diagnose, treat, cure or prevent any disease.
Frequently Asked Questions
---
How do you ship your products?
We use USPS Priority Mail. Order will typically arrive within 4-7 days on orders placed before 11am MST Mon-Fri. Please note that due to weight limitations and delivery address restrictions for USPS, very small or very large orders may be shipped via First-Class Mail or UPS at our discretion. This will not affect transit time.
---
Don't see the answer you are looking for? Visit our
FAQ page
.
People who bought this item also bought:
Blog Posts We Think You'll Like