| | | | | |
| --- | --- | --- | --- | --- |
| Customer Service | | 1-(888)-301-2926 M-F 9am-5pm MST | | | info@wishgardenherbs.com |
Cart

My Cart

$0.00

Free shipping on all domestic orders over $25

There are no items in your cart.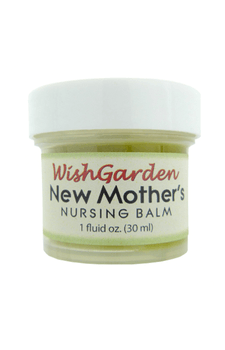 1oz
New Mother's
Nursing Balm
Who knew your precious little one was also a Hoover? WishGarden Herbs' New Mother's Balm naturally soothes babe-caused nipple fatigue. This salve can also be used to help with a perineum that has been stressed from birth. Safe for nursing.
New Mother's Nursing Balm
Key Attributes
Nipple balm for nursing moms.*
Soothes and moisturizes cracked and sore nipples.*
Safe for babies.*
Non-GMO and gluten-free.*
---
General Use
Apply externally as needed.
---
* These statements have not been evaluated by the Food & Drug Administration. This product is not intended to diagnose, treat, cure or prevent any disease.
Frequently Asked Questions
---
What formulas can I take while breastfeeding?
WishGarden's Pregnancy and Children's formulas are the products of choice while nursing. We suggest you consult a natural therapies practitioner before taking any other formulas.
---
Are your products organic?
We source organic raw ingredients whenever possible, including any cultivated herbs used and the alcohol in the tinctures. Many of our raw herbs are also wildcrafted. However, our products are not currently USDA certified organic.
---
Is it okay to take multiple formulas while breastfeeding?
It is okay to take more than one of the pregnancy and lactation formulas at the same time while breastfeeding.
---
Are your products Non-GMO?
Yes, we make a point to ensure that our raw ingredients are GMO-free. Most of the herbs we use are not at risk of being GMO. For ingredients that are at risk, they are almost always certified organic. Certified organic ingredients and product cannot, by law, contain GMO. For any non-organic at-risk ingredients, we do our best to insure that they are GMO free. However, our products do not currently have Non-GMO Verification or any other non-GMO certification.
---
Why is there alcohol in your formulas?
Alcohol is a sustainable and body-friendly extracting medium. It effectively releases the active constituents from coarse plant material. Alcohol also prevents the product from spoiling. Extracting herbs this way is an age-old technique that effectively carries the constituents into a liquid "plant soup", called a "tincture". WishGarden has developed a proprietary process that uses alcohol to maximum benefit during the extracting phase, while minimizing it in the finished product.
---
Can I mix two or more formulas, or take them together?
Many people enjoy mixing combinations; however, those with a complicated medical history or on prescription drugs should consult their natural therapies practitioner.
---
Are there any formulas that I should not mix?
We recommend that you avoid using the adult formulas while pregnant or breastfeeding unless advised to do so by your natural therapies practitioner.
---
Are there common allergens in your products, such as soy and corn?
Our products are gluten and dairy free. Most of our products are also free of soy and corn. The exception would be any formulas that contain cornsilk, including UTI Urinary, Growing Pains for Kids, Herbal Cal, and Kidney Strengthener. Catnip Oil Bug Spray contains soybean oil. Our Ear-Be-Well Ear Oil, Oh Baby! Oil, and Pregnant Belly Oil do contain almond oil.
---
How do you ship your products?
We use USPS Priority Mail. Order will typically arrive within 4-7 days on orders placed before 11am MST Mon-Fri. Please note that due to weight limitations and delivery address restrictions for USPS, very small or very large orders may be shipped via First-Class Mail or UPS at our discretion. This will not affect transit time.
---
Don't see the answer you are looking for? Visit our
FAQ page
.
People who bought this item also bought:
Blog Posts We Think You'll Like