| | | | | |
| --- | --- | --- | --- | --- |
| Customer Service | | 1-(888)-301-2926 M-F 9am-5pm MST | | | info@wishgardenherbs.com |
Cart

My Cart

$0.00

Free shipping on all domestic orders over $25

There are no items in your cart.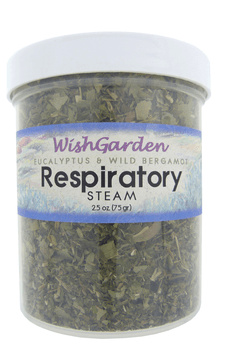 Jar
Respiratory Steam
Colds can make breathing a chore when sinuses get clogged and lungs get achy. WishGarden Herbs' Respiratory Steam is a Eucalyptus-based herbal blend that is placed directly into boiling water. A few long, deep breaths of the steam will help the temporary clearing of air passages. Contains Eucalyptus leaves, Monarda flowers, and Peppermint leaves.
Respiratory Steam
Key Attributes
Soothes discomfort from stuffy noses, chest colds, and swollen sinuses.*
Aids temporary clearing of airways.*
Non-GMO and gluten-free.*
---
General Use
Contains herbs for 5-8 respiratory steams. Place a handful of the herb mixture into a pot of boiling water, lower the temperature to simmer. Breathe in vapors to maximum benefit. Repeat as necessary to open nasal passages and sinuses. Children should be monitored and assisted in this process AT ALL TIMES, and never left unattended to insure SAFE DISTANCE from source of herb steam.
---
* These statements have not been evaluated by the Food & Drug Administration. This product is not intended to diagnose, treat, cure or prevent any disease.
Frequently Asked Questions
---
How do you ship your products?
We use USPS Priority Mail. Order will typically arrive within 4-7 days on orders placed before 11am MST Mon-Fri. Please note that due to weight limitations and delivery address restrictions for USPS, very small or very large orders may be shipped via First-Class Mail or UPS at our discretion. This will not affect transit time.
---
Are your products organic?
We source organic raw ingredients whenever possible, including any cultivated herbs used and the alcohol in the tinctures. Many of our raw herbs are also wildcrafted. However, our products are not currently USDA certified organic.
---
Does WishGarden have an affiliate program?
Yes! You can sign up
here
.
---
Are your products Non-GMO?
Yes, we make a point to ensure that our raw ingredients are GMO-free. Most of the herbs we use are not at risk of being GMO. For ingredients that are at risk, they are almost always certified organic. Certified organic ingredients and product cannot, by law, contain GMO. For any non-organic at-risk ingredients, we do our best to insure that they are GMO free. However, our products do not currently have Non-GMO Verification or any other non-GMO certification.
---
Are there common allergens in your products, such as soy and corn?
Our products are gluten and dairy free. Most of our products are also free of soy and corn. The exception would be any formulas that contain cornsilk, including UTI Urinary, Growing Pains for Kids, Herbal Cal, and Kidney Strengthener. Catnip Oil Bug Spray contains soybean oil. Our Ear-Be-Well Ear Oil, Oh Baby! Oil, and Pregnant Belly Oil do contain almond oil.
---
Don't see the answer you are looking for? Visit our
FAQ page
.
People who bought this item also bought:
Blog Posts We Think You'll Like