| | | | | |
| --- | --- | --- | --- | --- |
| Customer Service | | 1-(888)-301-2926 M-F 9am-5pm MST | | | info@wishgardenherbs.com |
Cart

My Cart

$0.00

Free shipping on all domestic orders over $25

There are no items in your cart.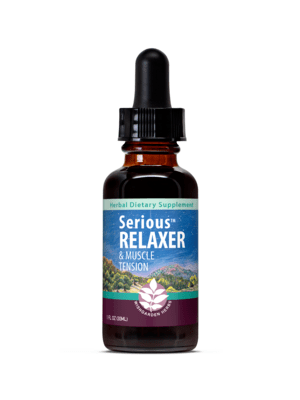 1oz Dropper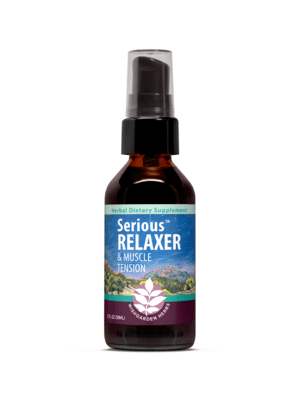 2oz Dropper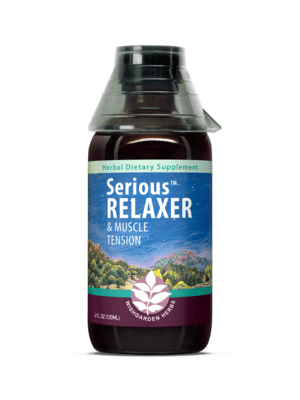 4oz Jigger Top
Serious Relaxer
Muscle Tension
Life has a way of ratcheting up the tension. WishGarden Herbs' Serious Relaxer can support your body in coming back to a calmer state. No matter if you're an athlete after a day of training or a mom after a day of parenting, Serious Relaxer can help you hit the reset button and start to relax.
Serious Relaxer Muscle Tension
Key Attributes
Herbs to support and relax a tense or tired body.*
Serious Relaxer is the first step to calm down after a stressful day.*
Powerful herbs to calm and decompress, can also be used to support healthy sleep cycles.*
Non-GMO and gluten-free.*
---
General Use
4-8 pumps (2-4 droppers or 2-4 mls) in liquid for taste. Repeat in 5 minutes if needed for full effect. Recommended Use Strategies: #1, #2
More About Our Use Strategies
GAME CHANGERS!
"Half of it is the awesome formulas.. the other half is how you use them!"

How to Use Our Liquid Extracts for Best Results:
Initially take the suggested amount in a small amount of water, juice or tea to taste. With familiarity, one can take directly for convenience.

#1 FASTEST EFFECT Strategy: to achieve in-the-moment results, take 3mL (8 pumps or 4 dropperfuls) in a little water; if needed, repeat in 5 minutes; or as practitioner recommended. Think 'enough volume here to get the job done'. For example: Kick-Ass Allergy, Serious Relaxer, Sleepy Nights

#2 MOVE-THRU-IT Strategy: to support optimum recovery rates, Take 3mL (8 pumps or 4 dropperfuls) in a little water; repeat every 1-3 hours for a day or two then taper off to 3-4 times a day (with a good night's sleep). The idea here is a persistent frequency. For example: Kick-Ass Immune, Get Over It, Deep Stress

#3 TONIC Strategy: for daily tonic and deeply nutritive support over time, take 3mL (8 pumps or 4 dropperfuls) 2-4 times a day. Tonics are safe to take long term. For example: Deep Stress, Daily Immune

Important Note: Not all three strategies are appropriate for all formulas. Please follow the instructions under Suggested Use on the bottle for use strategies that go with that formula.
---
Ingredients
Wood Betony (European) aerials (Stachys officinalis), Wild Lettuce aerials (Lactuca virosa, L. serriola, L. quercina, L. canadensis), Valerian root (Valeriana officinalis), Black Cohosh root (Actaea racemosa (syn. Cimicifuga racemosa)), Passionflower aerials (Passiflora incarnata), Scullcap aerials (Scutellaria lateriflora), Ginger root (Zingiber officinale), Hops strobiles (Humulus lupulus)
Other Ingredients
Rocky Mountain artesian spring water, vegetable glycerine, 190 proof organic wheat grain alcohol & apple cider vinegar.
** Due to supply shortages, some products will temporarily ship with dropper tops rather than pump tops.

Avoid using the adult formulas while pregnant or breastfeeding unless advised to do so by your natural therapies practitioner.
* These statements have not been evaluated by the Food & Drug Administration. This product is not intended to diagnose, treat, cure or prevent any disease.
Frequently Asked Questions
---
How do you ship your products?
We use USPS Priority Mail. Order will typically arrive within 4-7 days on orders placed before 11am MST Mon-Fri. Please note that due to weight limitations and delivery address restrictions for USPS, very small or very large orders may be shipped via First-Class Mail or UPS at our discretion. This will not affect transit time.
---
Don't see the answer you are looking for? Visit our
FAQ page
.
People who bought this item also bought:
Blog Posts We Think You'll Like