| | | | | |
| --- | --- | --- | --- | --- |
| Customer Service | | 1-(888)-301-2926 M-F 9am-5pm MST | | | info@wishgardenherbs.com |
Cart

My Cart

$0.00

Free shipping on all domestic orders over $25

There are no items in your cart.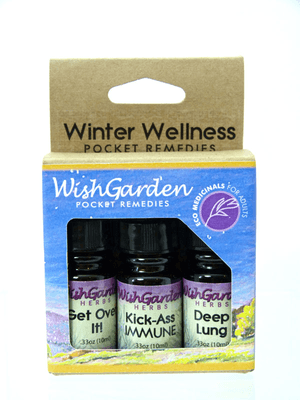 Small
Winter Wellness
3-Pack
Herbal heroes for healthy immune response.
Winter Wellness 3-Pack
Key Attributes
Three formulas for health and support.*
Perfect gift for travel.*
Non-GMO and gluten-free.*
---
Ingredients
Deep Lung
(
Elecampane root, Yarrow aerials, Yerba Santa leaf, Mullein leaf, Hawthorn berry, Angelica root, Yerba Mansa root, Garlic bulb & Osha root
),
Kick-Ass Immune
(
Yerba Santa leaf, Yarrow aerials, Elderflower, Baptisia root, Goldenseal root, Echinacea Purpurea root, Lovage root, Cinnamon bark & Osha root
),
Get Over It!
(
Pleurisy root, Wild Cherry bark, Lomatium root, Yerba Mansa root, Grindelia herb, Goldenseal root, Elecampane root, Burdock root & Cinnamon bark
).
* These statements have not been evaluated by the Food & Drug Administration. This product is not intended to diagnose, treat, cure or prevent any disease.
Frequently Asked Questions
---
Can I give adult formulas to kids?
For children under 12: in some cases, yes - in the proper amount. However, we recommend you stick to the children's products as these have been formulated specifically with kids in mind. Consult an herbal or natural therapies practitioner before giving any adult formulas to children. Children 12 years and older can take adult formulas.
---
Are your products organic?
We source organic raw ingredients whenever possible, including any cultivated herbs used and the alcohol in the tinctures. Many of our raw herbs are also wildcrafted. However, our products are not currently USDA certified organic.
---
How do herbal extracts compare to tablets or capsules?
Most capsules either contain powdered, dry herbs, or a tiny bit of liquid extract (gel caps). Tablets are powdered herbs that are held together by pressure and other chemicals. The beauty of liquid extracts, or "tinctures," is that they absorb quickly and the body receives the full benefit of the plant in a very bio-available solution. Liquids also allow you to customize your serving freely so you can best meet your needs at the time. Liquids are inexpensive and easy to swallow. The droppers and pump top dispensers are also convenient for when you're on the go.
---
Why is there alcohol in your formulas?
Alcohol is a sustainable and body-friendly extracting medium. It effectively releases the active constituents from coarse plant material. Alcohol also prevents the product from spoiling. Extracting herbs this way is an age-old technique that effectively carries the constituents into a liquid "plant soup", called a "tincture". WishGarden has developed a proprietary process that uses alcohol to maximum benefit during the extracting phase, while minimizing it in the finished product.
---
I'm on a gluten-free diet. Are there any formulas that I should avoid?
None of our formulas contain gluten. The pure Italian wheat-based grain alcohol we use leaves all gluten behind when distilled, and comes with a gluten-free test certificate. The only other grain used in any of the formulas is Milky Oats, which is sustainably harvested and sorted in a botanical house. It is not processed with, or contaminated by, other grains.
---
Can I mix two or more formulas, or take them together?
Many people enjoy mixing combinations; however, those with a complicated medical history or on prescription drugs should consult their natural therapies practitioner.
---
Are there common allergens in your products, such as soy and corn?
Our products are gluten and dairy free. Most of our products are also free of soy and corn. The exception would be any formulas that contain cornsilk, including UTI Urinary, Growing Pains for Kids, Herbal Cal, and Kidney Strengthener. Catnip Oil Bug Spray contains soybean oil. Our Ear-Be-Well Ear Oil, Oh Baby! Oil, and Pregnant Belly Oil do contain almond oil.
---
Are there any formulas that I should not mix?
We recommend that you avoid using the adult formulas while pregnant or breastfeeding unless advised to do so by your natural therapies practitioner.
---
Will I still get the same effect if I put the extract in another liquid (juice, tea, etc.)?
Yes for most formulas diluting them in common drinks can improve taste, and will not compromise the formula's effect. Just use the recommended amount, and repeat if necessary for full effect. Please note that to receive the full effect of bitters, you must taste them and dilution is not recommended.
---
Can diabetics take glycerin?
Yes. Glycerin is also called glycerol and is a plant-based substance that is molecularly similar to alcohol. It belongs to the family of sugar alcohols, such as malitol, sorbitol, and xylitol, considered safe for diabetics.
---
Are all of the herbs you use organic?
For the herbs we use that are cultivated, we source organic whenever possible. Those that are not organic are often harvested from the wild. All of the wild harvested herbs that go into our products must meet strict sustainability standards, including harvesting location.
---
How do you ship your products?
We use USPS Priority Mail. Order will typically arrive within 4-7 days on orders placed before 11am MST Mon-Fri. Please note that due to weight limitations and delivery address restrictions for USPS, very small or very large orders may be shipped via First-Class Mail or UPS at our discretion. This will not affect transit time.
---
Don't see the answer you are looking for? Visit our
FAQ page
.
People who bought this item also bought:
Blog Posts We Think You'll Like