| | | | | |
| --- | --- | --- | --- | --- |
| Customer Service | | 1-(888)-301-2926 M-F 9am-5pm MST | | | info@wishgardenherbs.com |
Cart

My Cart

$0.00

Free shipping on all domestic orders over $25

There are no items in your cart.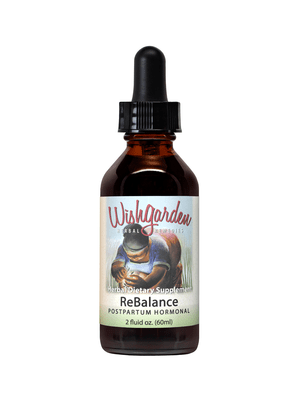 2oz Dropper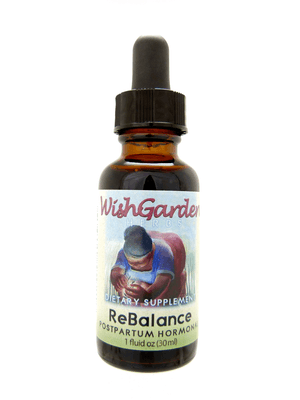 4oz Dropper
ReBalance
Postpartum Hormonal
Hormonal fluctuations are normal in the first 6-8 weeks after birth as the body transitions from pregnancy into motherhood. WishGarden's ReBalance formula is lovingly made to support healthy hormone levels and a sense of well-being after birth.
ReBalance Postpartum Hormonal
Key Attributes
Support for healthy hormones.*
Balancing for the new mother.*
Non-GMO and gluten-free.*
---
General Use
2-3 droppers full in water for taste, 2-3 times a day as a tonic.
---
Ingredients
Black Haw bark (Viburnum prunifolium), Calendula flower (Calendula officinalis), Lady's Mantle aerials (Alchemilla vulgaris, A. xanthochlora), Motherwort aerials (Leonurus cardiaca), St John's Wort aerials (Hypericum perforatum), Vitex berry (Vitex agnus-castus), Burdock root (Arctium lappa), Yarrow aerials (Achillea millefolium)
Other Ingredients
Rocky Mountain artesian spring water, 190 proof organic wheat grain alcohol & vegetable glycerine.
* These statements have not been evaluated by the Food & Drug Administration. This product is not intended to diagnose, treat, cure or prevent any disease.
Frequently Asked Questions
---
What formulas can I take while breastfeeding?
WishGarden's Pregnancy and Children's formulas are the products of choice while nursing. We suggest you consult a natural therapies practitioner before taking any other formulas.
---
How do herbal extracts compare to tablets or capsules?
Most capsules either contain powdered, dry herbs, or a tiny bit of liquid extract (gel caps). Tablets are powdered herbs that are held together by pressure and other chemicals. The beauty of liquid extracts, or "tinctures," is that they absorb quickly and the body receives the full benefit of the plant in a very bio-available solution. Liquids also allow you to customize your serving freely so you can best meet your needs at the time. Liquids are inexpensive and easy to swallow. The droppers and pump top dispensers are also convenient for when you're on the go.
---
Are your products organic?
We source organic raw ingredients whenever possible, including any cultivated herbs used and the alcohol in the tinctures. Many of our raw herbs are also wildcrafted. However, our products are not currently USDA certified organic.
---
Can I give adult formulas to kids?
For children under 12: in some cases, yes - in the proper amount. However, we recommend you stick to the children's products as these have been formulated specifically with kids in mind. Consult an herbal or natural therapies practitioner before giving any adult formulas to children. Children 12 years and older can take adult formulas.
---
What is WishGarden's sustainability policy?
We make herbal remedies from a love of the plants and the earth and sustainability is very important to us. As such we only source organic and ethically wildcrafted herbs. Each of our suppliers must go through an extensive screening process and meet our high standards for both sustainability and quality. We also support organizations and research projects working on promoting the continued health of medicinal plant populations, such as the AHPA-ERB Foundation's Osha Sustainability Project. We believe your health and the health of the planet are intimately connected.
---
Is it okay to take multiple formulas while breastfeeding?
It is okay to take more than one of the pregnancy and lactation formulas at the same time while breastfeeding.
---
How long will it take for the formula to have an effect?
---
What does "as needed" mean on the label?
We are all unique and herbs can work differently for different people. The usage instructions on the label are written to be applicable to a general population. However, that doesn't mean they are optimum for you and the discomforts you are experiencing (small vs. large body types for example). "As needed" means you should take the amount listed at a needed frequency until you feel the desired effect (paying attention to any maximum or frequency limitations listed).
---
Does WishGarden have an affiliate program?
---
Are your products Non-GMO?
Yes, we make a point to ensure that our raw ingredients are GMO-free. Most of the herbs we use are not at risk of being GMO. For ingredients that are at risk, they are almost always certified organic. Certified organic ingredients and product cannot, by law, contain GMO. For any non-organic at-risk ingredients, we do our best to insure that they are GMO free. However, our products do not currently have Non-GMO Verification or any other non-GMO certification.
---
Why is there alcohol in your formulas?
Alcohol is a sustainable and body-friendly extracting medium. It effectively releases the active constituents from coarse plant material. Alcohol also prevents the product from spoiling. Extracting herbs this way is an age-old technique that effectively carries the constituents into a liquid "plant soup", called a "tincture". WishGarden has developed a proprietary process that uses alcohol to maximum benefit during the extracting phase, while minimizing it in the finished product.
---
Why does WishGarden use alcohol in children and pregnancy formulas?
Using a small amount of alcohol in the Pregnancy and Children's lines was a conscious decision. It enables us to keep the strength and efficaciousness of the formula intact but is also gentle and appropriate for women and children. Extracts made with only glycerine or water limit the constituent profile. WishGarden's finished extract contains a minimal amount of alcohol, which, per serving, is at a very low dietary level (similar to what is found in kombucha and ripe bananas). You can also further reduce the alcohol content by stirring your droppers full, or pumps, into hot water or tea for a few minutes.
---
Can I buy wholesale on the website?
---
I'm a recovering alcoholic. Is it safe for me to take your product? Is there any way to get rid of the alcohol?
We do not recommend alcohol extracts for those recovering from alcohol addiction. This is to prevent even the smallest amount of alcohol from re-triggering any vulnerable addictive pathways. In this case it is not the volume, or quantity, of alcohol present that is relevant, but rather the sensitivity of the individual. We recommend that water extracts such as teas and infusions, or powdered herb (non-alcohol extracted) capsules be used. The practice of evaporating off the alcohol in hot water or tea significantly lessens, but may not completely eliminate all of the alcohol present.
---
Why don't I see all the formulas on the website?
If you are not seeing a product you want, give us a call. We have certain formulas that belong to our practitioner line and are not currently offered on the website. However, you are welcome to call and order these products via phone (888-301-2926). Please note that some formulas might require proof of practitioner status before purchase.
---
I'm on a gluten-free diet. Are there any formulas that I should avoid?
None of our formulas contain gluten. The pure Italian wheat-based grain alcohol we use leaves all gluten behind when distilled, and comes with a gluten-free test certificate. The only other grain used in any of the formulas is Milky Oats, which is sustainably harvested and sorted in a botanical house. It is not processed with, or contaminated by, other grains.
---
Are your products Kosher?
While some of our ingredients are kosher, we are not a certified kosher facility. We receive raw materials from various suppliers.
---
Can I mix two or more formulas, or take them together?
Many people enjoy mixing combinations; however, those with a complicated medical history or on prescription drugs should consult their natural therapies practitioner.
---
Is your glycerin sustainable?
Yes, we take sustainability seriously. All of our glycerin is palm based. We source it from small plantations in Columbia that are certified by both RSPO and Rainforest Alliance. They are also currently ranked the highest globally for sustainability by third party evaluators. We never hesitate to change our sources if they do not meet our strict sustainability standards.
---
Are there any formulas that I should not mix?
We recommend that you avoid using the adult formulas while pregnant or breastfeeding unless advised to do so by your natural therapies practitioner.
---
Are there common allergens in your products, such as soy and corn?
Our products are gluten and dairy free. Most of our products are also free of soy and corn. The exception would be any formulas that contain cornsilk, including UTI Urinary, Growing Pains for Kids, Herbal Cal, and Kidney Strengthener. Catnip Oil Bug Spray contains soybean oil. Our Ear-Be-Well Ear Oil, Oh Baby! Oil, and Pregnant Belly Oil do contain almond oil.
---
Will I still get the same effect if I put the extract in another liquid (juice, tea, etc.)?
Yes for most formulas diluting them in common drinks can improve taste, and will not compromise the formula's effect. Just use the recommended amount, and repeat if necessary for full effect. Please note that to receive the full effect of bitters, you must taste them and dilution is not recommended.
---
Can diabetics take glycerin?
Yes. Glycerin is also called glycerol and is a plant-based substance that is molecularly similar to alcohol. It belongs to the family of sugar alcohols, such as malitol, sorbitol, and xylitol, considered safe for diabetics.
---
What does FZ mean for sizes?
This is short hand for fluid ounces.
---
Are all of the herbs you use organic?
For the herbs we use that are cultivated, we source organic whenever possible. Those that are not organic are often harvested from the wild. All of the wild harvested herbs that go into our products must meet strict sustainability standards, including harvesting location.
---
Can I give the formulas to pets?
All of our products were formulated for human consumption. However, we have heard of people successfully using them for their pets. We recommend contacting a natural veterinarian before administering any of them to your pet, as some herbs are not safe for animals.
---
Are there books you recommend?
---
How long does a 1 oz. last?
It depends on the amount you are taking and frequency and this changes from formula to formula. But if you are taking 2-3 droppers, 4 times a day then a 1 oz. bottle will last roughly 2-3 days.
---
How do you ship your products?
We use USPS Priority Mail. Order will typically arrive within 4-7 days on orders placed before 11am MST Mon-Fri. Please note that due to weight limitations and delivery address restrictions for USPS, very small or very large orders may be shipped via First-Class Mail or UPS at our discretion. This will not affect transit time.
---
People who bought this item also bought:
Blog Posts We Think You'll Like