| | | | | |
| --- | --- | --- | --- | --- |
| Customer Service | | 1-(888)-301-2926 M-F 9am-5pm MST | | | info@wishgardenherbs.com |
Cart

My Cart

$0.00

Free shipping on all domestic orders over $25

There are no items in your cart.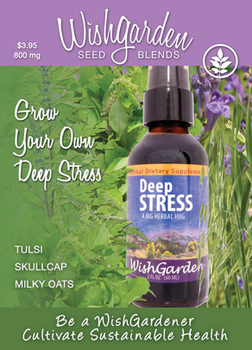 Seed Packet
Deep Stress Seeds
Deep Stress helps buffer and lesson the effects of stress. With our seed blends, you can now grow your own and have these great herbs right in your backyard. Tulsi deeply supports your body in times of stress. Oats nourish your nervous system and Skullcap calms and soothes in the moment. Whether you are a beginner or a master gardener, all of these easy to grow herbs are great additions to your garden and your medicine cabinet.
Deep Stress Seeds
Key Attributes
Nourish your body with herbal stress support.*
Now you can grow your own!*
For cultivation tips and recipes visit www.WishGardenHerbs.com/Seeds.*
---
General Use
See www.wishgardenherbs.com/seeds for more information on growing and using the herbs in this packet.
---
* These statements have not been evaluated by the Food & Drug Administration. This product is not intended to diagnose, treat, cure or prevent any disease.
Frequently Asked Questions
---
How do you ship your products?
We use USPS Priority Mail. Your order will arrive in 2-4 business days if you placed it before 11pm MST Mon-Fri. Please note that due to weight limitations and delivery address restrictions for USPS, very small or very large orders may be shipped via First-Class Mail or UPS at our discretion. This will not affect transit time.
---
Are your products organic?
We source organic raw ingredients whenever possible, including any cultivated herbs used and the alcohol in the tinctures. Many of our raw herbs are also wildcrafted. However, our products are not currently USDA certified organic.
---
Are there books you recommend?
---
What is WishGarden's sustainability policy?
We make herbal remedies from a love of the plants and the earth and sustainability is very important to us. As such we only source organic and ethically wildcrafted herbs. Each of our suppliers must go through an extensive screening process and meet our high standards for both sustainability and quality. We also support organizations and research projects working on promoting the continued health of medicinal plant populations, such as the AHPA-ERB Foundation's Osha Sustainability Project. We believe your health and the health of the planet are intimately connected.
---
Is your glycerin sustainable?
Yes, we take sustainability seriously. All of our glycerin is palm based. We source it from small plantations in Columbia that are certified by both RSPO and Rainforest Alliance. They are also currently ranked the highest globally for sustainability by third party evaluators. We never hesitate to change our sources if they do not meet our strict sustainability standards.
---
Are your products Non-GMO?
Yes, we make a point to ensure that our raw ingredients are GMO-free. Most of the herbs we use are not at risk of being GMO. For ingredients that are at risk, they are almost always certified organic. Certified organic ingredients and product cannot, by law, contain GMO. For any non-organic at-risk ingredients, we do our best to insure that they are GMO free. However, our products do not currently have Non-GMO Verification or any other non-GMO certification.
---
Don't see the answer you are looking for? Visit our
FAQ page
.
People who bought this item also bought:
Blog Posts We Think You'll Like